Portraiture
Through studying portraiture for my Higher Art Course, I began sketching and painting portraits from life. In addition, I also painted the heroes and legends of my childhood. Many of these were figures from history- Winston Churchill, Admiral Nelson and the like. These subjects were of course impossible to paint from life, so I often would work from black and white photographs or daguerreotypes- endeavouring to bring these dark and still images to life with colour.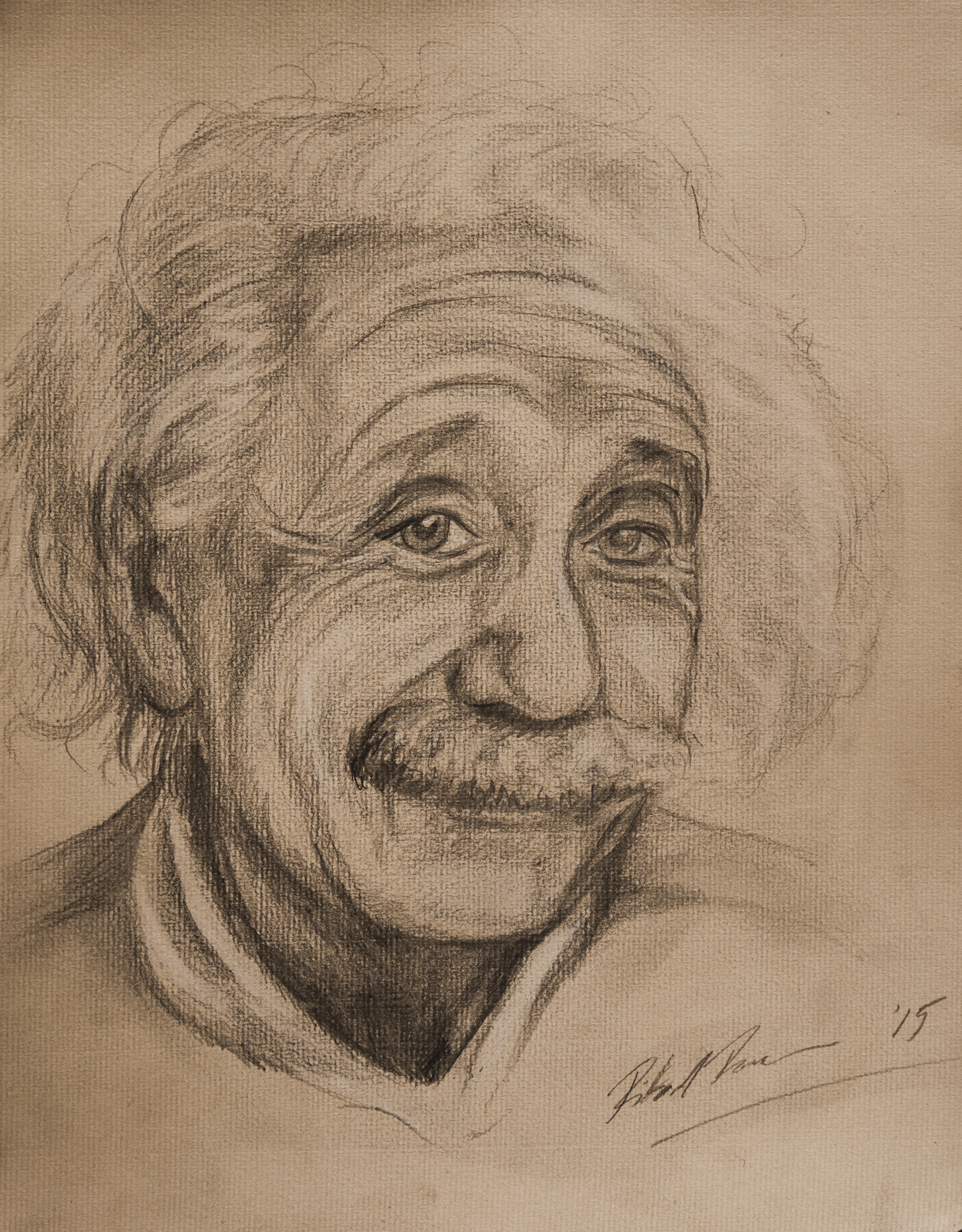 Albert Einstein
While working for Leupold Brown Goldbach Architekten in Munich, I had a colleague who was fascinated by Albert Einstein. He regularly wore t-shirts with Einstein references, and while here set out to visit Einstein's home in the city. I drew this portrait of the greatest scientist of the 20th Century as his farewell present.
Pencil on Coloured Paper
Winston Spencer Churchill in his study
Based on a black and white photograph of Churchill at his home, the painting relocated the great man to his study where he is surrounded by some of his creative work- a painting of Marrakesh and his seven volume history of 'The Second World War'. The painting was given to my brother- who is a strong admirer of the former Prime Minister- as a gift.
Acrylic on Canvas
The Dancer
Keen to experiment with a new style and subject matter, I used a range of graphite pencils to form the dancer and her stunning dress before picking out some highlights in white pencil. Left so, the monochromatic image felt frozen. Some dashes of watercolour on the flowing dress brought the drawing to life.
Pencil and Watercolour on Coloured Paper
Tina and Jacky
Having grown up with my two Labradors from the age of seven, they had always been a significant part of my life. Shortly before leaving for University in 2012 I painted the two of them on the lawn outside my parents' house.
Acrylic on Board
My father reading
During my Higher Art Course, I explored portraiture under the theme of 'A Quiet Moment'. It was during this time that I sketched my father relaxing with a book on the settee at home.
Pencil on Cartridge Paper
Admiral Nelson
Having grown up with a strong interest in the sea, and also the Napoleonic Age, I painted this portrait of Lord Nelson of Trafalgar fame, attempting to capture a figure locked in immortality even before his death at his most famous victory.
Acrylic on Canvas Textured Paper (After Lemuel Francis Abbott)
'Ginger'
While living in Germany, the lady who was my host for the first month had a 'Chinese Wringle Dog' as a pet. It took quite a while for 'Ginger' to take to me, as she was rather a temperamental dog. I drew this portrait as a farewell present to my host.
Pencil on coloured paper
Federer acknowledges the crowd
Having been an avid tennis fan for years, I felt compelled to paint perhaps the greatest player of all time after watching one of his performances.
Acrylic on Canvas Textured Paper
Lolita and friend
A present for a friend who wants one day to have a pet pig and dog. The pig already has a name- Lolita! The dog is as yet unnamed...
Pencil on coloured paper
Sax
With a great love of jazz, I was able to combine my passion for visual art and music.
Pencil and Watercolour on Coloured Paper
Late Reading
This examination of my father reading was interesting as it employed just one light source- from a standing lamp. Long, dark shadows were cast due to this set up, and the scene appeared rather tonal, hence the decision to use a limited palette.
Poster Paint on Paper
Flamenco!
Drawn when I moved back to Germany, as a birthday card for a good friend. The ink was a first experiment with the medium, seeking to capture the fluidity of the dancer's movements.
Pen, pencil and ink on coloured paper
Eisenhower's Inspection
Based on a black and white photograph taken shortly before the D-Day landings in France in 1944, this painting was completed one winter evening and endeavoured to capture the grim determination locked on the Supreme Allied Commander's face as the final preparations were being made.
Acrylic on Cartridge Paper